If you want to explore the stunning unspoiled countryside of southern Italy, come and stay in a beautiful villa in Puglia and take it from there. What you'll get? Historical towns, rural places with endless olive groves and vineyards, gorgeous beaches on the Adriatic coastline as well as by the Ionian Sea. You can explore national parks and spot wildlife and above all spend quality time with loved ones and enjoy your private swimming pool in the garden of your holiday home. Here is a list of our best villas in Puglia: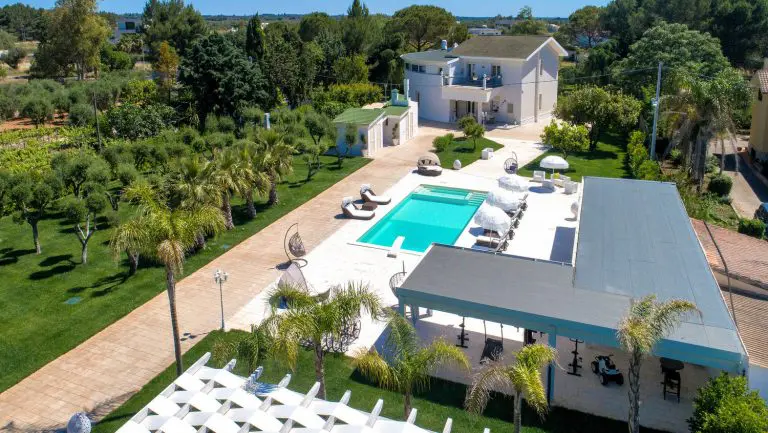 Villa La Perla Bianca is like a white pearl surrounded by lush Mediterranean greenery. A gorgeous white palace, full of luxury and class for an unforgettable holiday in Italy. This 5-bedroom villa is located in Brindisi in a small town called Oria and it has amazing facilities. Not only does it feature a big outdoor pool and a jacuzzi but also a gym and a wellness centre with yet another jacuzzi and a sauna. You'll also love the solarium with BBQ facilities for a lavish feast. There are 2 interconnected apartments at the villa making it ideal for big groups to spend their holiday together while having some privacy at the same time. Interiors are modern chic with state-of-the-art amenities including AC and big flat-screen televisions for entertainment.
Top features
Wellness room with sauna, whirlpool and chromotherapy
Private outdoor gym
Big heated pool & outdoor jacuzzi
Chic modern interiors
Solarium with a BBQ
2 interconnected apartments
Located in the countryside, 20 km from the beach
If you want to stay somewhere truly special with a historic background, Villa Masseria Muto is the perfect pick. The villa features natural rock stone walls and a wonderful private garden with a swimming pool and jacuzzi. There is a lovely terrace for alfresco dining to the view of the beautiful countryside and inside, there are rustic chambers for living, dining ad sleeping. The villa has a chic traditional ambience yet it is topped off with modern luxury amenities. Villa Masseria Muto has 3 bedrooms and it is located strategically towards San Lorenzo, Casarano and Ruffano near the Adriatic coast.
Top features
Historic villa in the countryside
Big garden with a swimming pool
Outdoor jacuzzi
Alfresco dining terrace
Rustic charm and beautiful views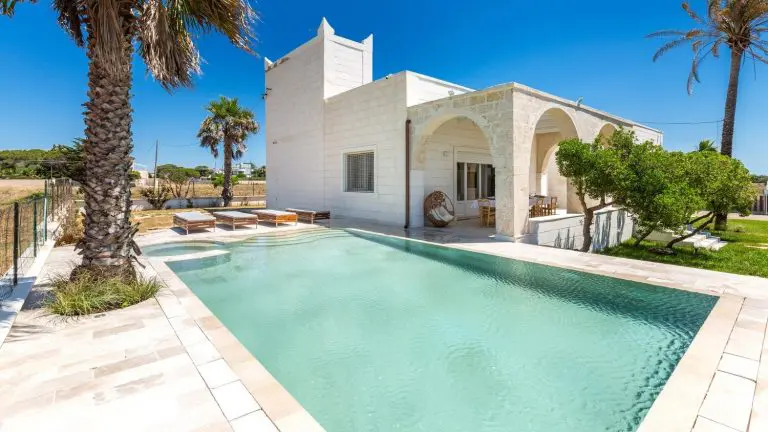 Villa Mirante is a stunning seafront holiday retreat in Campomarino di Maruggio. It's a modern villa with a sparkly private swimming pool in a peaceful garden. The air-conditioned living room has glass sliding doors that open up to a covered terrace where you can dine to the sound of the sea. The living space has a checkerboard black/white floor, wooden furnishings and rattan lamps. There is a spacious family kitchen with a bar, high chairs and a TV. The sofa lounge features another big flat-screen television for round-the-clock entertainment at the villa. The villa has a dishwasher, washing machine and an electric oven. Everyone staying at Villa Mirante can make use of the free shuttle bus to Lido di Cavalieri and to the beach.
Highlights
Free shuttle to Lido di Cavalieri and a beach with sunbeds
Private swimming pool
AC in the living room
Covered terrace with a dining table
Ocean views
Spacious kitchen with modern appliances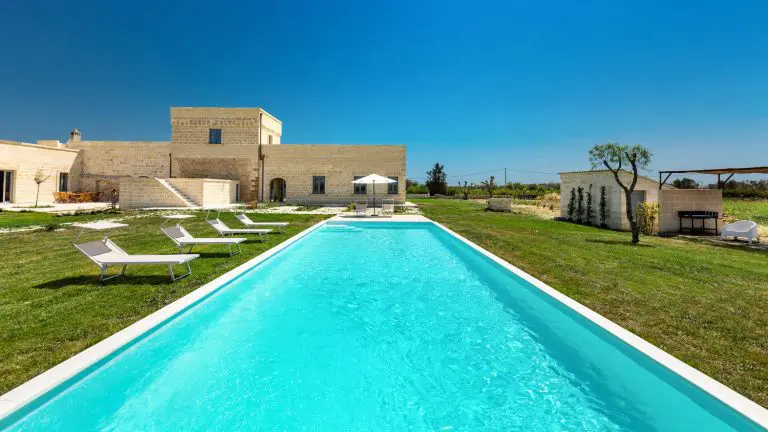 At Villa Masseria Bosco Colombo you'll be staying at a 16th-century property which is quite a special experience on its own. The villa is completely surrounded by nature and it boasts a big garden where you can swim and sunbathe all day long but that is not all. Villa Masseria Bosco Colombo features stunning traditional architecture and a whole bunch of amazing facilities for a luxury getaway to Italy. If not swimming in the long lap pool, go chill out on the roof terrace and share a bottle of wine together with loved ones. There is a sunny veranda for outdoor dining and the indoor living areas are spacious and bright with serene all-white interiors. The villa has 5 bedrooms of which one has bunk beds, making it ideal for families. The location is near Brindisi.
Star features
Stay in a 16th-century villa
Al-white exteriors & interiors
Long lap pool
Alfresco dining spot
Roof terrace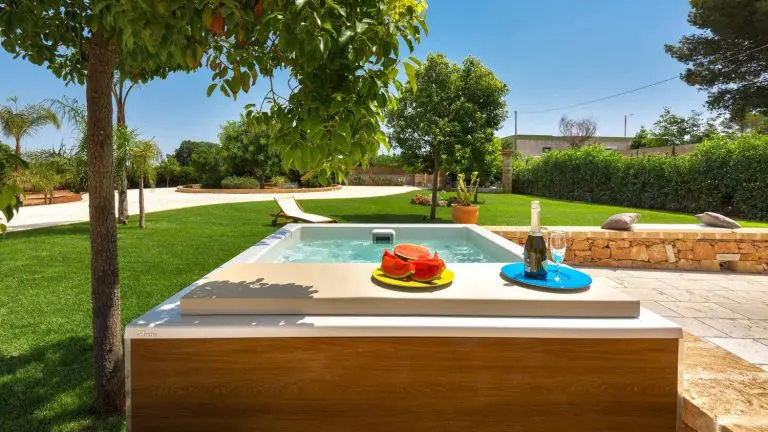 Villa Vanda is a charming 3 bedroom holiday home with a big lush green garden and a jacuzzi in the open air. A wonderful place in the countryside of Southern Salento and not too far from the beach. Perfect for a family getaway. Kids can play on the lawn while mom and dad soak in the jacuzzi. You can eat together at the alfresco dining table on a shady verandah and make use of the spacious family kitchen equipped with modern kitchen appliances. Villa Vanda exudes Italian charm inside out.
Highlights
Charming 3-bedroom villa
Jacuzzi outdoors
Shady verandah for alfresco dining
Close to the beautiful town of Specchia
Beautiful countryside views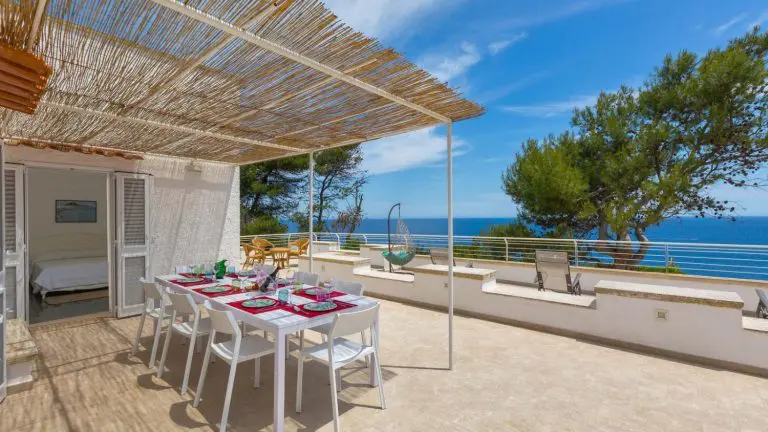 This fabulous villa sits right on top of Zinzulusa Cave in Castro and it boasts inspirational ocean views to take your breath away each morning of your stay. Villa Luigia is a 5 bedroom villa for up to 9 guests. It's a stunning white stone property with a pergola-shaded alfresco dining area and a large terrace for sunset drinks to the view of the ocean. The living room has white sofas to relax on watching TV or reading a book, a dining table and a super eye-catching retro kitchen in green. All 5 bedrooms are equipped with AC.
Highlights
Magnificent ocean views
Alfresco dining
a cool retro kitchen with modern appliances
Large terrace for sunset drinks
Located in Castro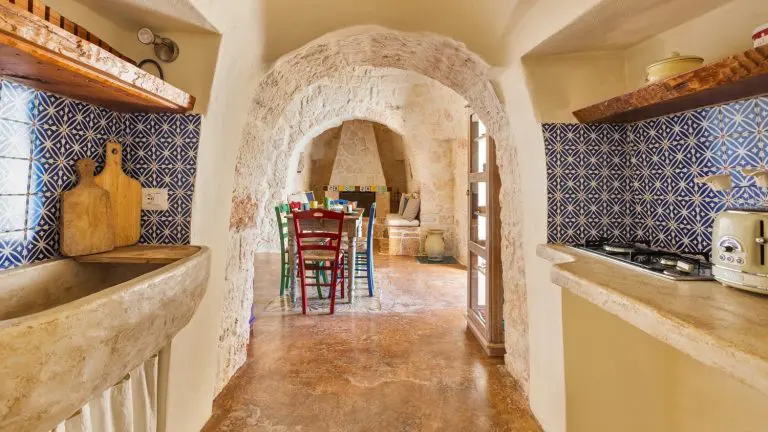 Very rustic and traditional, Villa Trullo Olive is a very special and unique place to stay in rural Southern Italy. The villa houses 2 bedrooms and it is ideal for couples or a small family looking for a holiday home in the countryside near Ostuni. Featuring natural rock walls and ceilings, the living spaces are very cozy and quaint with colourful traditional interiors. Outdoors in the garden lies a wonderful lagoon-like swimming pool and a stone terrace for alfresco dining.
Highlights
Unique very traditional stay in the countryside
Lagoon-like swimming pool
Rustic stone walls and traditional interiors
Peaceful location near Ostuni
Alfresco dining terrace
Found your favourite villa? Contact us now and we will check if it is available for your dates.
Happy Villa Holidays!
Related articles:
Please follow and like us: