When thinking about yoga in combination with Bali, your mind probably wanders off to places like Ubud, hyped as the cultural and spiritual capital of the island. In the meantime, Canggu is an upcoming tourist destination for a beach holiday of surfing, yoga and healthy food. No one seems to know that Seminyak also has quite a few great yoga studios hidden away in the centre of town. In Seminyak, fashion and style, wining and dining, shopping and beach vibes are seamlessly combined with yoga, spas and nightlife. It is all is infused into one bubble of happiness! With your private Seminyak luxury villa as your island base, check out the following 7 yoga studios in Seminyak: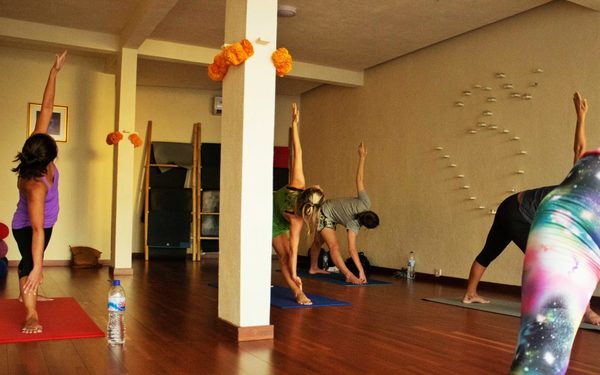 The Yoga Shala is easily tracked down as it is located in the centre of Seminyak, just on the corner of the town's main shopping street and next to Divine Earth which makes a great stop for a healthy vegan meal or a cold-pressed juice after your yoga practice. The Yoga Shala offers signature Mysore Style Ashtanga Yoga, the oldest dynamic form of yoga. They also offer Hatha Yoga, Vinyasa Flow Yoga and meditation classes. The instructors are well-trained professionals with a passion for their work. You can hop in for a yoga class 7 days a week. Non-slip yoga mats, towels and water are provided. A casual drop-in class of 1.5 hours costs US$9.
Seminyak Yoga Shala, Jalan Basangkasa no. 1200B, Seminyak, Bali, Indonesia, +62-361-7304-98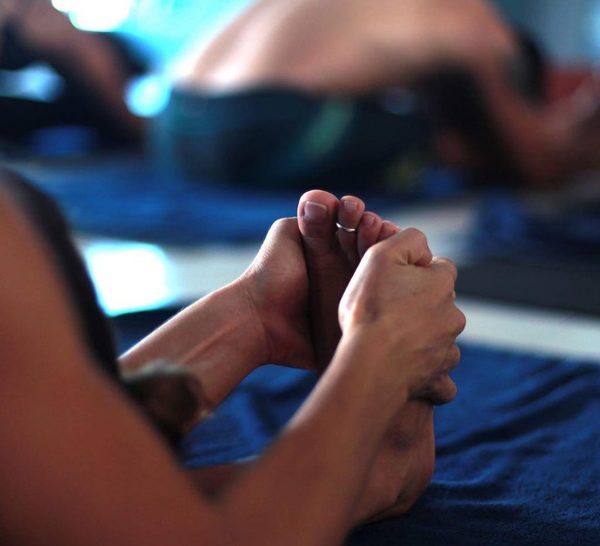 Who likes it hot? Located in the Petitenget neighbourhood of Seminyak, Jiwa Bikram Yoga boasts quite a 'hot' location indeed, and the Bikram yoga sessions at this awesome yoga venue will surely make your sweat! You will get into a flow of 26 postures during a 90-minute yoga session in a 40+ degree heated room. For those who can endure the heat, it really does wonders for your body. The environment is wonderful with lots of natural sunlight, a wooden floor, white walls and floor-to-ceiling mirrors. Originated from all over the world, the yoga instructors at Jiwa Bikram are more than experienced. A single class costs Rp. 180,000. Towels cost Rp. 20,000 and yoga mats Rp. 10.000.
Jiwa Bikram Yoga, Jl. Petitenget No.78, Seminyak, Bali, Indonesia. Tel: +62 851-0041-3689.
Opening hours: Monday – Friday 7 am – 9.30 pm and Saturdays and Sundays from 9 am – 6 pm.
Related: 10 best late-night spas in Seminyak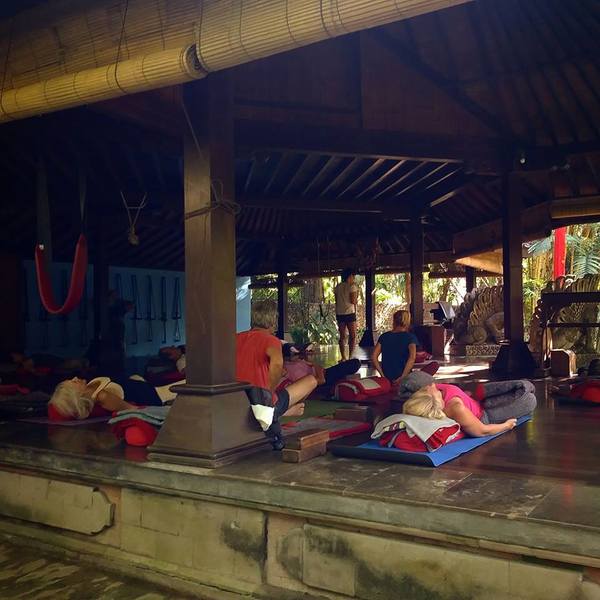 This yoga practice studio features a beautiful setting in a traditional Javanese Joglo pavilion. Surrounded by a lush green tropical garden, you'll be surprised to learn that this yoga studio located in the center of Seminyak within short walking distance of the beach, Oberoi Road and plenty of holiday villas. Olop Arpipi is your yoga instructor, teaching Iyengar and Hatha yoga with patience, love and dedication. A single yoga class of 2 hours costs Rp. 100,000 and it is also suitable for beginners. Praised with nothing but good reviews, the Olop Iyengar Yoga Studio might just be Seminyak's best-kept-yoga secret, at least for now… He gives classes 3 times a week, go find out!
Olop Iyengar Yoga Studio, Jalan Drupadi I No.07, Seminyak, Bali, Indonesia. Tel: +62 812-3811-507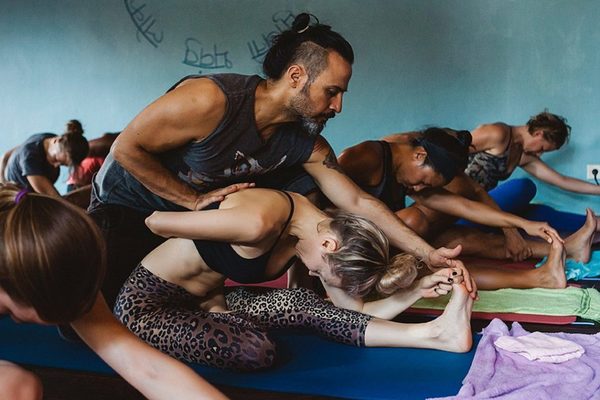 Tucked away in the quiet Drupadi gangs of central Seminyak, Yoga 108 Bali offers a variety of Yoga styles such as Ashtanga, Hatha, Vinyasa and Yin Yoga. Your teacher, Sagi Jessie Dagon, is much-loved because of his 'no-bullshit' approach to yoga and he gives both private lessons and group classes. You can also sign up for a yoga retreat or just come for a single yoga class at a walk-in rate of Rp. 100.000. As a student of this experienced yoga master, you are guided to get the most out of your yoga practices.
Yoga 108 Bali, Jl. Drupadi No.108, Seminyak, Bali, Indonesia. Tel: +62 817-0007-108.
Opening hours: Mon – Sat 7.30 am – 7 pm.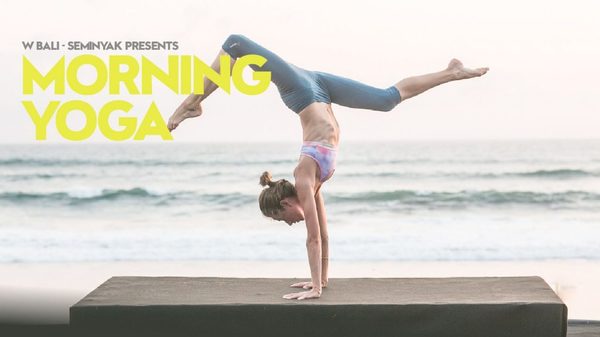 You can roll straight from the beach into this yoga studio, located inside the Woo Bar in Petitenget. Or, how about starting your day with a yoga session at Woosky and head towards the beach from there? Every Saturday, you can attend a yoga class from 7 am – 8.15 am at Rp. 150.000++ including a morning booster shot, mineral water and complimentary access to the spa facilities at the luxurious Away Spa featuring a hot stone, cold plunge, hammam and detox chamber. Sounds wonderful, right?
Woosky at the Woo Bar, Jl. Petitenget, Kerobokan, Seminyak, Bali, Indonesia. Tel: +62-361-3000-106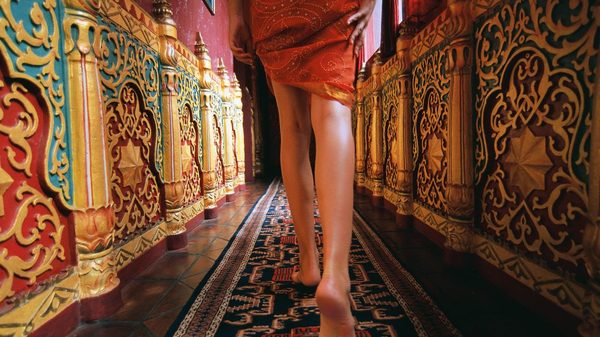 Prana Spa is one of the most beautiful spas in all of Bali, featuring gorgeous middle-eastern-inspired decorations and luxury spa rooms. This high-end health centre also offers yoga lessons, so great news for yogis and yoginis staying in Seminyak. There are daily yoga classes and on offer and you can choose between Vinyasa, Hatha and Kapha yoga. A one-hour class costs Rp. 130,000. The alluring and inspiring environment really add value to the experience. Make it is a full day of leisure and luxury, combining your yoga practice with a pampering spa package.
Prana Spa, Jl. Kunti I, Seminyak, Bali, Indonesia. Tel: +62 361 730840.
Opening hours: 9 am – 10 pm
You may also like: Things to do in Bali: 9 activities to inspire your itinerary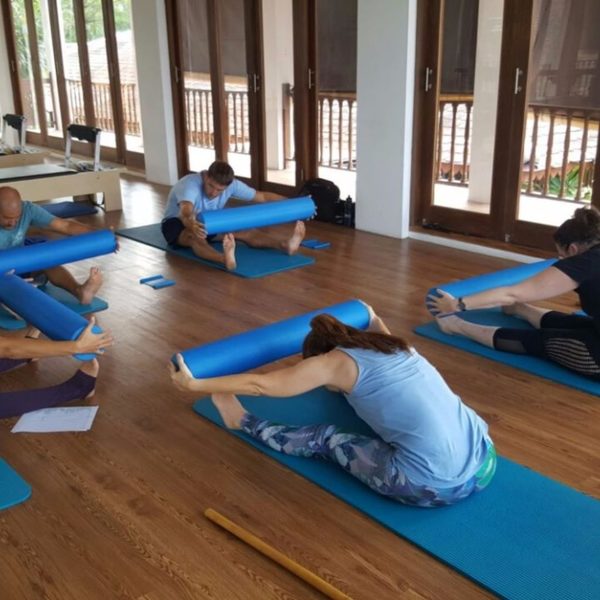 This yoga studio is not exactly located in Seminyak, but there are two venues nearby. The Sunset Pilates Studio has one studio in Legian and one in the Berawa area of Canggu. The spacious, light-filled yoga studio in Legian is the closest from the Double Six Area of Seminyak. If your villa is located in Canggu, the Canggu yoga studio, located in The Joglo, is the best choice.  Both studios offer group, duo and private lessons, focusing on strength, muscle toning, body control, and flexibility, The Legian studio also offers specialized pregnancy and rehabilitation classes. A one-hour group Pilates Mat Class costs Rp. 120,000.
Sunset Pilates Bali
Legian: Jl. Dewi Sri No.98, Legian, Bali, Indonesia. Tel: +62-822-4735-7237 /+62-361-472-6020. Opening hours: Monday to Saturday 9 am – 8 pm
Canggu: Jl. Subak Sari 13 No. 8, 2nd Floor at The Joglo cafe, Canggu, Bali, Indonesia. Tel: +62-822-4732-0790
Featured image by Steven Sim
Please follow and like us: