Are you looking for the best things to do while visiting Sydney? From iconic Australian landmarks, to hidden alleyways serving up some of the best food Sydney has to offer, we have put together a list of 'must-do things' while in Sydney. Below are the 10 most amazing experiences you definitely should not miss during your next trip to Australia!
1. Bondi Beach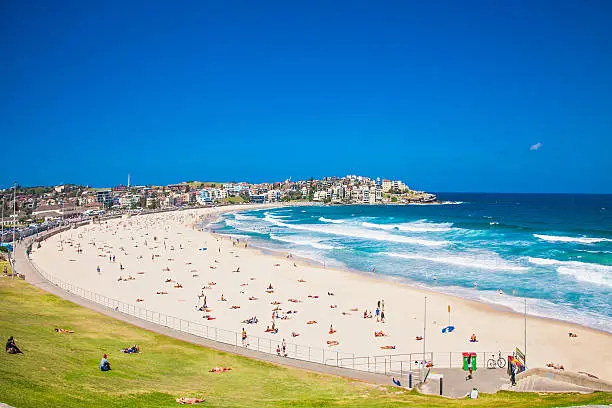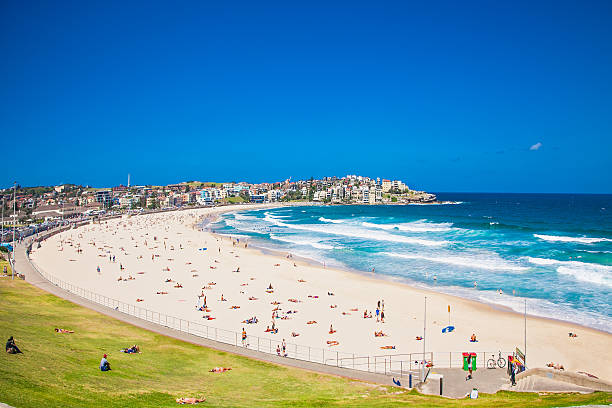 Sydney's iconic Bondi Beach is one of Australia's most popular beaches — mixing surfing and swimming with Sydney's big-city buzz. Nestled between two headlands and only 7kms from the city center, this magnificent stretch of sand is much more than just a beautiful Sydney beach. It is a place where both locals and tourists go each day to watch the sunrise, exercise along the beachfront, go shopping in boutique fashion stores, swim in the Pacific Ocean and chill-out on the perfectly manicured lawns next to the street art-lined esplanade.
Bondi Beach is also home to some of Sydney's best cafe's, pubs and restaurants — where you will find a huge selection of different types of food to eat no matter your preference or what time of the day it is. From a perfectly made cappuccino early in the morning, to a full-spread seafood platter later in the evening, Bondi has a vast variety of food options for you to choose from. Bondi is also the starting point for the wonderful six-kilometer Bondi to Coogee Coastal Walk.
2. Bondi to Coogee Coastal Walk
The six-kilometer Bondi to Coogee Coastal Walk is one of Sydney's most scenic seaside walks, and will take you across five different beaches and two stunning bays. Winding its way south from Bondi Beach to Coogee Beach, the walkway starts by taking you over the steep headland lookout of Marks Park, down towards the dog-friendly, rock pools of Mackenzies Bay. From there you will make your way past the popular surfing spots of Tamarama Beach, and on to the family-friendly shores of Bronte Beach. Continue along the walkway and you will pass the historic Waverley Cemetery on your way towards the excellent snorkelling spots at Clovelly Beach and Gordon's Bay. The final stretch of the Bondi to Coogee seaside walk takes you around yet another headland over to the busy, restaurant lined promenade along Coogee Beach.
You can choose to start your journey from either Bondi or Coogee, and it will take you roughly 2 hours to comfortably walk the trail. It's also highly recommended you bring your swimming gear too, so you can stop off and enjoy the different beaches along the walk.
3. Sydney Harbour Bridge
Whether you choose to walk across it, over it or simply visit it to admire its unique design, a visit to the Australia's iconic Sydney Harbour Bridge is an absolute must. The Sydney Harbour bridge offers tremendous views of the Sydney harbour, city and the world-famous Sydney Opera House. Walking across the bridge and admiring it's ostentatious architecture is absolutely free. Or if you are feeling adventurous, you can choose to book a guided Bridge Climb tour which will take you up and over the main arch of the bridge.
The guided Sydney Harbour Bridge Climb Tour involves making your way to the highest point on the bridge, appropriately 134m above sea level. From this amazing vantage point you will enjoy a once-in-a-lifetime panoramic view of Sydney and give yourself an unforgettable memory during your trip to Sydney.
4. The Rocks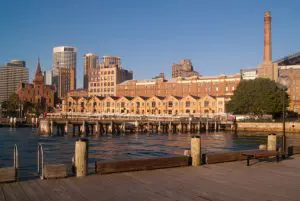 The Rocks is Sydney's oldest colonial neighborhood, located on the western side of Circular Quay, towards the underpass of the Sydney Harbour Bridge. The Rocks is the birthplace of modern Sydney and the location where the First Fleet of British colonists and convicts first stepped ashore in 1788. You will be transported back in time as you wander the maze of cobble-stone alleyways, checking out the various different old-time relics and landmarks found around The Rocks area. And be sure to visit the Museum of Contemporary Art (MCA), next to the oldest remaining building in Sydney, Cadmans Cottage, founded in 1816.
The Rocks is a charming city suburb and provides visitors with plenty of opportunities to eat at fine-dining restaurants along the harbour-front, shop for the latest fashion in boutique clothing stores, and enjoy some of the most amazing views Sydney Harbour has to offer.
5. Manly Beach
Manly Beach on Sydney's northern beaches is a popular seaside destination with the slogan "Seven Miles from Sydney and a Thousand Miles from Care". With its golden sands, pine tree-lined beachfront, great waves for surfing, laid back people and relaxed beach lifestyle, Manly Beach provides the perfect getaway from the hustle and bustle of the city center. Enjoy a relaxing 40 minute trip across the harbour to Manly on the local ferry service, to take in all of the amazing views around Sydney Harbour. Then stroll through the Corso (Manly's main shopping district) to end up at one of Sydney's best beaches.
In the Corso and along Manly beachfront, you will find no shortage of places to go shopping and buy your Australian souvenirs. As well as a huge variety of fabulous cafes, restaurants, pubs and food options for you to choose from. Manly Beach is also perfect for families as it is a fully patrolled beach, with plenty of experienced Australian lifeguards on duty during daylight hours to keep you safe in the ocean.
6. Taronga Zoo
While you may have visited other Zoos before, nothing quite compares to the stunning scenery and animals at Sydney's Taronga Zoo. Australia's best zoo occupies some of the city's sexiest real estate, allowing visitors the opportunity to snap amazing pics of animals such as giraffes and elephants, backdropped by iconic Australian imagery including the Sydney Opera House and Sydney Harbour Bridge. You will also have the chance to get up close and personal with an array of extremely cute Australian wildlife, like kangaroos, koalas, echidnas, emus, wombats, and the elusive platypus.
To reach Taronga Zoo, you need to take a short 12-minute ferry trip from Circular Quay in Sydney Harbour, then soar by Sky Safari cable car (free with zoo entry) up to the main entrance. During your ferry trip and cable car ride, you will be able to take in all of the beautiful sights around Sydney Harbour.
7. Sydney Opera House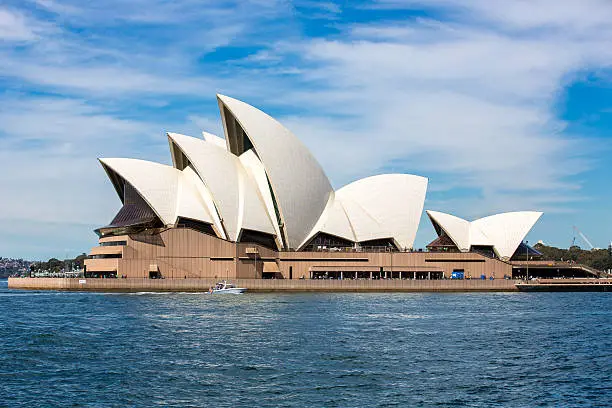 The Sydney Opera House at Bennelong Point is an iconic Sydney landmark, with plenty of enjoyable things to do around the area. The Opera House itself is one of the most famous venues in the world to take in a play, dance performance, classical concert, stand-up comedy show or a contemporary music gig. Outside the venue you will find a number of fine-dining restaurants and bars, where you can sit, eat and enjoy the views of Sydney Harbour.
Every evening around sunset and at 9:00pm, there is a daily seven-minute projection show that illuminates the building's eastern sail. This fascinating light-show explores the ancient stories of the local indigenous Aborigines, who were the original inhabitants of this piece of land. The Sydney Opera House is located just a short five-minute walk from the main ferry, bus and train terminal at Circular Quay.
8. Sydney Seaplanes
One of the best ways to explore everything Sydney has to offer, is to take a guided tour of the city by seaplane. Sydney Seaplanes takeoff and land at a terminal in Rose Bay — the location of Sydney's first airport. You can choose between a short 15-minute Sydney Highlights tour, which takes in Bondi Beach, the Sydney Harbour Bridge, and the Sydney Opera House. Or a 30-minute Sydney Secrets tour which takes you over to Palm Beach on Sydney's Northern Beaches, and returns via the Pittwater inlet, over the Sydney Harbour Bridge and past the Sydney Opera House.
The departure lounge at Sydney Seaplanes doubles as a luxurious cocktail bar and café called Empire Lounge, where those taking a tour can gather for drinks and snacks before or after a trip. The Empire Lounge and departure area for Sydney Seaplanes can be found beside the famous harbour-front restaurant called Catalina in Rose Bay.
9. Spice Alley
Spice Alley is an Asian-inspired food alley, hidden behind the brand new main facade of the Kensington Street precinct. It is located near Central Park in the Sydney's trendy Chippendale area. Spice Alley has become a hot-spot for foodies and is known to serve up some of the finest Asian cuisine in Sydney — and at very reasonable prices. In this unique food-court you will find a wide array of delicious meals from Singapore, Malaysia, Japan, Vietnam and China. 
The entire food alley is decorated with an Asian inspired theme with a series of magnificent lantern installations. If you're using public transport to get to Spice Alley, the nearest bus stop is next to Railway Square. If you're coming by train, get off at Central Station and head towards Railway Square/Broadway.
10. Sydney Ferry Service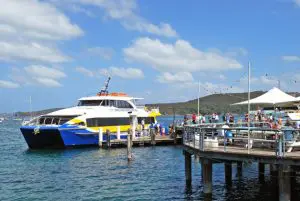 The Sydney Ferry boat service is one of the most convenient methods to get around, and provides some of the most amazing views this city has to offer. Whether you are using a ferry to reach a particular destination, or you just want to take a cheap scenic cruise around Sydney Harbour, a ride on a Sydney Ferry is a quintessential Sydney experience not to be missed.  
The departure terminals to catch a Sydney Ferry are located in the main public transport hub of Circular Quay. There are 8 different routes and 29 wharves to choose from, so deciding which trip to take and where to go can be a challenge. Below is our selection for the top 5 ferry rides for you to enjoy:
Pyrmont Bay to Watson's Bay – Cross Harbour Ferry Service.
Circular Quay to Balmain.
Circular Quay to Cremorne – Mosman Services.
Circular Quay to Parramatta.
Circular Quay to Manly.
Related posts:
Please follow and like us: